Turtle Mountain State Bank opened its doors on December 3, 2007 as the first privately owned Native American bank on a federally recognized Indian Reservation. In April of 2012, the bank moved into a beautiful new building located in the center of downtown Belcourt. To fulfill the needs of the underserved, we are committed to offering high-quality checking, savings, and loan programs to the community. The Bank is also proud to support youth activities, its local scholarship program, and multiple other community projects. Thanks to the hard work of all involved, the bank's de nova period is scheduled to end December 3, 2014. The Turtle Mountain community is proud to have a local bank that has proven to be an excellent economic tool for both its residents and businesses.


Turtle Mountain State Bank is a community bank committed to providing financial services, support, and related activities to our trade areas; thereby instrumental in the development of a solid economic base for generations to come.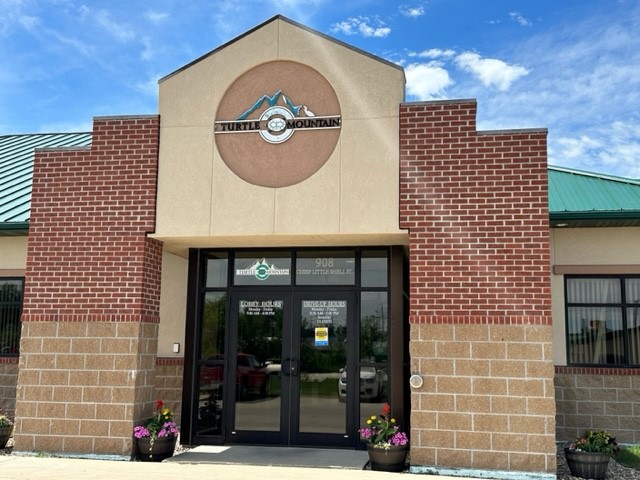 To be a community banking leader in North Dakota
To deliver personal quality service in an efficient expedient manner
To develop lasting customer relationships
To invest in high quality loans and investments
To recognize and reward employee job performance, integrity civic participation, and professionalism in order to promote long term employee retention
To maximize shareholder value
To continue to be locally owned and controlled (Board of Director/ Chief Lending Officer/ Executive Vice President)
Jim is originally from Belcourt, ND and is an enrolled member of the Turtle Mountain Band of Chippewa Indians. He has owned and operated several successful small businesses. The most notable, Laducer and Associates Inc., was named the SBA North Dakota business of the year in 2001. It is an information management technology company that provides data entry services for various companies. At its peak, the company employed over 300 people in the Bismarck/Mandan and Belcourt communities. Jim also owns and operates Apple Creek Country Club, a well-known 18-hole golf course with a 10,820 sq. foot club house that features a pro shop, lounge, and fine dining. Another business of his, Laducer Development Inc., includes commercial rental properties, real estate development, and construction of custom homes. Prior to these successes, Jim provided management and technical assistance to small businesses including tribal entities throughout the state of North Dakota and has been recognized by various agencies for his support and commitment to economic development. (Board of Director/ Chairman)
Ken was born, raised, educated and currently resides in Belcourt, ND. He is an enrolled member of the Turtle Mountain Band of Chippewa Indians and has been owner/operator of LaDots, Inc. for over 40 years. LaDots has been one of the most successful businesses on the reservation. Ken has served on numerous boards in the community and has earned various business and community awards. Ken was appointed to the Renewal Community Committee in 2001, and was instrumental in securing funding to staff the center, as well as working with the tribe to pass a Universal Commercial Code. (Board of Director)
Phyllis retired from Jollie's Supermarket in June 2013 after she and her husband had successfully owned and operated the supermarket for 37 years. She is still co-owner of Jollie's Investment, LLP, DBA Belcourt Shopping Center, which is a retail outlet for local businesses. Phyllis has always been very active in the community and has served on multiple committees in the area. She was instrumental in the development of "Pathways to Prosperity", which is a poverty reduction strategy of the Turtle Mountain Tribe. Since retiring, she has remained active in her community by serving on committees at her church. She is an enrolled member of the Turtle Mountain Band of Chippewa Indians. Dr. Gerald "Carty" Monette
(Board of Director)
Gerald "Carty" is an enrolled member of the Turtle Mountain Band of Chippewa. He was honorably discharged as Sargent E-5 from the Army Infantry after serving from 1966 to 1968. He was president for Turtle Mountain Community College from 1994 to 2005. While President he was the Principle Investigator for a $20 million National Science Foundation program that served K-12 schools located in the states of North Dakota, South Dakota, Montana, Nebraska, Wyoming, and Minnesota. He continues to work with tribal colleges as a consultant providing technical assistance primarily on National Science Foundation funded projects. Throughout his career he has served on many local, state, and national boards. In August 2013 he and a few colleagues formed the Tribal Nations Research Group, a 501c3 promoting education, research, and data management for the Turtle Mountain Band of Chippewa. He is married to Dr. Loretta DeLong. Together they have seven children and 18 grandchildren, one great grandchild.